| | |
| --- | --- |
| | |
| Adoptable Cats | Adoptable Dogs |
Zeus' Sponsorship Page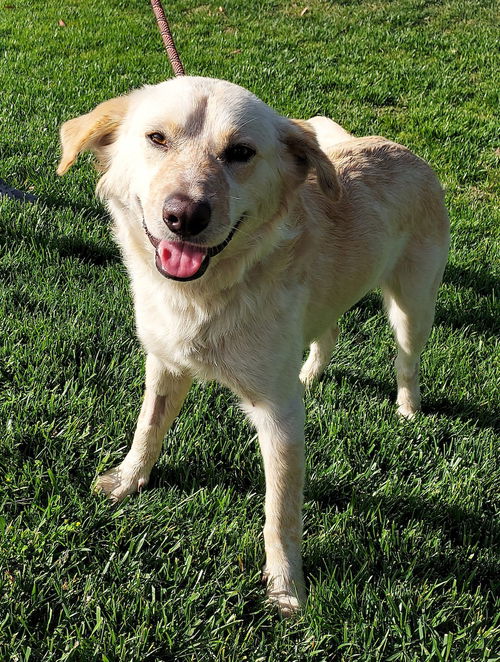 Meet Zeus!

Zeus in a wonderful young adult dog who we would describe as a social, happy, outgoing, playful, and very handsome Baja Blend Mutt! He was rescued from the streets of Ensenada, Mexico in November 2021 by a good Samaritan. He was a typical Mexican mangy stray dog who was obviously not thriving. He was weak, malnourished, and had a terrible case of mange, which left him hairless with crusty skin. It took a couple of months for this sweet soul to completely heal up. Who would have thought that such a sad looking pup would turn out to be so handsome and sweet!
Zeus is now available for adoption and is in San Diego waiting to find his forever family. He is healthy and all his medical treatment has been completed. The ideal home for him would be one with a yard although this is not required. He would do well as an only dog living in an apartment, assuming his adopter is looking for an active friend to be their exercise companion. He will need an active adopter, especially if they are living in an apartment. Zeus is very friendly with all people, including adults and children. He gets along with other dogs, both big and small. He has not been exposed to cats.
The right adopter for Zeus will be interested and committed to dog training. Ideally he would be best for an experienced dog owner who knows how to guide him, or an inexperienced dog owner who will enroll Zeus in a dog obedience class so that he can learn basic dog obedience commands. He is already crate trained. You are welcome to submit an adoption application and comment on your interest to foster for 1-2 weeks before committing to adopt.
If you are interested in fostering or adopting Zeus, please submit an online application at www.arwob.org. Don't wait, as Zeus would love to meet you!
Zeus' Sponsorship Options


One Time Sponsorship
---------- OR ----------
Recurring Sponsorship
$

Repeat sponsorship payment every:
Would you like to stop
the recurring sponsorship
after a certain number of payments?
Yes No
If yes, how many?