| | |
| --- | --- |
| | |
| Adoptable Cats | Adoptable Dogs |
Bobby's Sponsorship Page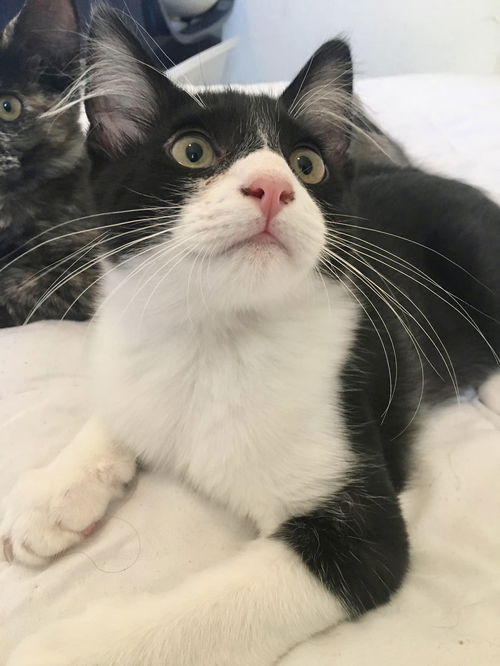 Meet the 'B' family!
Bonnie is the ADORABLE calico mama cat and she had a litter of 6 kittens already born when we rescued them. As of 7/28 mom and 4 kitts became available. The following is a short summary:
The "B" family was rescued from a high kill shelter in the Riverside/San Bernadino area on 5/10 and all had a horrible respiratory infection. The kitts were likey a month old and mom was only 6 pounds.

When we arrived home, we quickly noticed mom no longer had milk so the kittens had no milk to nurse for, hence their foster ended up feeding them for about 2-3 weeks. Thankfully, they were quick learners and within a few days started eating wet food on their own, so, they just needed to have several feedings a day. At that point (mid may) mom was separated from them as she had no milk and was malnourished herself. She couldn't help them and we needed to make sure the babies eat their food too. They stayed in a large kennel in the cat room while Bonnie and a few other adult cats were in the room. So they had each other, mom could keep an eye on her babies, and we could tell she was happy and relaxed to see her babies taken cared off while the babies saw the adults as well.
The boys: Bennie and Bobby, developed a horrible eye infection in one of their eyes. The virus that affected their eye was SO bad and inflamed the vet didn't think it would be salvageable and gave us antiviral drops to apply 6 times a day. They hated it, but the eyes were saved and there is no damage whatsoever!
Meet the "B" babies (and mom) UPDATE 7/30 in the foster's own words:
As their foster I can say they are SUCH good little babies. They have always used the box so well, compared to so many kittens fostered through years, these guys are strong survivors and just so well behaved, never a mess, never demanding, always patient. The boys are much bigger probably half a pound than the girls. Although Bobby is much bigger than all of the others. Becky is the smallest and slender. Their mom, Bonnie, is noticeable as a large cat meaning... tall, slander, and long. She is now at a healthy weight of 9.5 pounds, although she doesn't look it until you lift her up ...ha ha!!
As of now, i believe Bobby and Bennie at least will be 'bigger kitties'. Bobby certainly looks like a 4-5mo kitto vs a 3.5mo 3.5-pound kitty like his siblings.
Bobby and Bernie have interesting colors. Not your typical black or tuxedo cats. That developed recently in mid july and you can't really appreciate it well from the pictures.
Bobby has many white hairs around his black coat and Bennie has many white as well, but it looks very much like a smokey color for both. Very cute, especially the underlying belly and ear tuffs!!
Becky is between tuxedo and just black with some white as she has marks on her toes and face.
Betty is your typical tortie color girl.
The 4 have SHORT hair and most is between long hair (tail/ear tuffs) but mostly short hair so we can say Bonnie is medium to long hair and her babies are mostly short coat BUT they have 'fuss' so they got some 'bad hair' days type hair style on them as some is long but not enough to say they are long hair kitties!!
They are fantastic with cats, they respect adult and senior cats, love to play with the kitties that seek them. They LOVE to play but aren't mischievous (this of course can change in the dreaded teen age stages ahead of them lol), always find their box and cover it well. They live in a home with dogs but only recently have they been getting more exposure. The boys seem to be the bravest, the girls will run to the kitty room and stay there for a few until feel more comfortable to come explore, in short they are not super exposed to dogs but with the right introduction they are bound to be dog friendly within short time. I am surprised still with us although is kitten season so many kittens looking for a home and it may be a long while until we find the right family for them so now they have the whole run of the house and because of that I have not spent as much time with them since mid july. I would love to find a foster for them in pairs or a home with other cats so they can receive more human attention.

Bobby is food oriented. He likes to find you at the computer desk. Has no problem perching in your shoulder. He likes being petted BUT doesn't love to be carried belly up in your arms, his kitty language will come out and tell you off in a very tiny meow kind of way, but he comes back for more...so maybe he doesn't hate it that much ha ha
Bennie is more aloof with people but will start purring, he is a silly gentle innocent type personality good boy can def use children or people to carry him and pick him up more to be more friendly. He is definitely very loving after he has played and will seek attention in couch or bed. He is a scaredy cat who thinks he is though but with the kindest heart.
Betty is a great torite and doesn't follow typical tortie personality she also enjoys being petted but perhaps not carried around much unless she is tired but she wants to play and when ready to cuddle she will seek you out and purr to her heart content.
Becky is brave one and no fear but also the most scardy cat, if that makes sense? she is a tomboy but also a girl at heart. She loves to be petted but boy she can out run all her siblings and jump the highest.
ALL are energetic for a little and then can nap for hours. Not vocal kitties at this time. Love toys and all are good feather wand hunters......the red dot has NOTHING on them and can find it with ease every time.
They would be fine in any home BUT they are not the most LOVEY DOVEY kittens who purr and kiss you on contact which means children will need to be gentle and patient until they can trust the children. Otherwise, if a bad experience, they could become afraid of the children.
All 4 kittens and mom are done with vaccination series, sterilized, chipped. Mom and 2 of the 6 kittens are felv/Fiv tested and are negative which means they are ALL negative. A healthy little family more than ready to have a family of their own.

They must be adopted in pairs or into a home with another cat friend. No single kitty house holds for these little ones. To Adopt, foster to adopt or foster please submit an application online at ARWOB.org or email their foster mom at animalrescuers@sbcglobal.net
Bobby's Sponsorship Options


One Time Sponsorship
---------- OR ----------
Recurring Sponsorship
$

Repeat sponsorship payment every:
Would you like to stop
the recurring sponsorship
after a certain number of payments?
Yes No
If yes, how many?